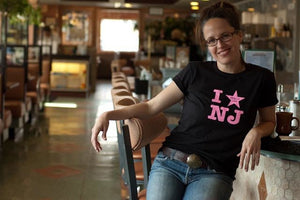 Keeping the Community Rocking!
Sara O'Brien Keeps Communities Rocking
When I decided to undertake this blog one of the things I hoped to accomplish was to find the "funny and fabulous" people that make us "really like" NJ. I could think of nobody funnier or more fabulous than the inspiration for "I Really Like NJ", the creator of the New Jersey Song and the founder and director of our community partner, Sara O'Brien.  Through her grassroots non-profit CommunityRocks! and her work with The Tyanna Foundation, her family's breast cancer charity, she works tirelessly to help children and families throughout NJ. 
Just a Jersey Girl at heart
After moving with her family from Ohio when she was just a girl, Sara grew up in southern New Jersey in Haddon Township. After graduating she moved "far, far away" and "swore she'd never return". After enduring countless "Jersey Shore" and turnpike jokes she soon found herself defending the state.  In 2002, while performing with the Sara O'Brien Band she penned the lyrics for "The New Jersey Song". When graphic designer friend John Crawford was tasked with creating a band t-shirt, the I Really Like NJ symbol was born. It soon transformed into a campaign inspiring pride, community and collaborative arts projects. 
Sara eventually moved back to NJ and opened Studio Luloo, a community arts space and well known venue in the southern NJ music scene. Today, she resides in Gloucester City, NJ (just over the bridge from Philly) with her two kids. She can be found most days working with children at Virtua Hospital's CASTLE Program or running her 501C3 Non-profit CommunityRocks!
In Summer of 2018  Sara O'Brien and the Community Rocks! Kids newest album "Let Yourself Shine" had it's national release in Athens, Georgia. Put together by Sara with the help of Philadelphia based Turtle Studios, the "inspirational and educational music by kids, with kids, for kids" cover topics like "Taking Turns and Sharing" or being "Thankful". It includes fun and funny tacks such as "Vegetarian", the story of a girl who wants to be a vegetarian but laments that she like pepperoni too much. The CD also provides inspiration in songs like "Together We Can Fly" and the title track "Let Yourself Shine". 
The eventful summer culminated in an event called "ShineFest" which included a  Broadway musical style adaptation of songs from the CommunityRocks! playlist. Named "Love, Love, Love" after one of Sara's songs, it brought together over 40 kids of all ages, races, and economic backgrounds to put on the production. 
One of the main missions of CommunityRocks rocks is to inspire kids and families to make a difference in their communities. Whether it's performing at local events, holding free workshops or camps, or doing assemblies at local schools, Sara is always championing the cause. The amazing thing is, when Sara performs, kids are always encouraged to get up on the stage and join in. She even runs a Tuesday morning sing-a-long group at a local coffee shop, aptly named "Espresso Yourself".  
Always the artist, Sara can often be seen at local community events behind a table with kids doing art projects or one of her favorite activities, recycled crafts. From bottlecap necklaces to magic wands made from sticks collected from her yard the activities are meant to be "hands on" and to allow their young minds to be creative and engaged. 
Part of her teaching philosophy is also to encourage people to be physically active. As a certified Yoga and fitness instructor she has started group exercise programs for both kids and seniors and incorporates fitness even into some of her more musically oriented programs. It's her belief that Yoga and exercise allow you to let go of stress and anxiety which in turns help the learning process.
BreastFest and The Tyanna Foundation
In 1990, tragedy entered Sara's life when she lost her mother Tyanna to breast cancer. At the young age of 48, Tyanna left behind 5 daughters, Anne, Megan, Bridget, Sara and Katie who would all go on to help continue her legacy. In 1999, Sara decided that she needed a way to talk about and honor her mom. The first BreastFest was held in Athens, Georgia. The event, a fun mix of "bands, beers and boobies" became the flagship event for The Tyanna Foundation. 
Today, BreastFest is held in five different states and the event has helped raise money that goes directly to hospitals and cancer centers in each area so the money "stays local". Billed as an event "to celebrate life, celebrate survivors, and remember those who have died", the event focuses on prevention and awareness rather than just research. The Tyanna foundation has pledged millions to this cause and has been honored by many of the breast health organizations including the naming of the "Tyanna Barre O'Brien Woman's Health Unit" at Virtua Hospital here in New Jersey. 
Where can I find out more?
To find out more about Sara O'Brien follow CommunityRocks! on social media or go to www.communityrocks.org
To find out more about The Tyanna Foundation go to www.tyanna.org.
And don't forget to check out our online shop where all of the sales go to help fund CommunityRocks!
With that I leave you with the inspiration for I Really Like Nj. Sara O'Brien performing "The New Jersey Song"!
---